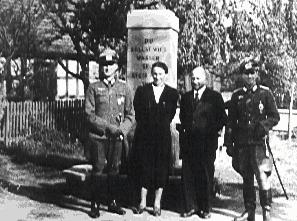 1943

Wilhelm Mauss together with his wife Margarete and their sons Wilhelm (left, later colonel of the German Bundeswehr) and Ulrich (+ Orel/Russia) in front of the artesian fountain in Gross Tuchen, which was discovered by him, who was able to handle the divining rod. The inscription of the stone was: "Du sollst wie's Wasser sein. Stets klar und rein" [Be like the water - always clear and clean]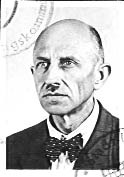 1946

After prison and expulsion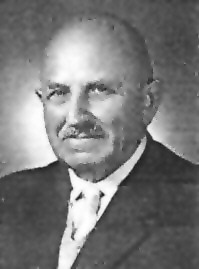 1968

Retirement
Wilhelm Mauß (1893-1971) - Educator and Political Activist

Translated by Leslie Riggle, Wichita / Kansas (USA)

Wilhelm Mauß, from Regenwalde, was a teacher at the Boys School in Pyritz from 1926 until 1933. As a man who was political active, he had during his 6½ years in the Weizacker area, a number of enemies, and as politics began to polarize in 1930 those who opponents had him declared to be a deadly enemy and a traitor to his country.

But Mr. Wilhelm Mauß also had many friends and in his party, the Social Democrats, he was a driving force. By 1929 he had already been sent as a representative to the county legislature and to the city council. In addition to his many other offices, he was also a member of the city council for the city of Pyritz. Teacher Mauß was an excellent and a beloved teacher, who never allowed his politics to influence his behavior toward the children of his political opponents in the democratic process.

On 5/4/1933 he was furloughed from his duties for political reasons and next he was banned to the one-room school in Pammin in Kreis (county) Dramburg and was transferred in October 1933 to the three-room school in Groß Tuchen in Kreis Bütow, where he remained until the 28th of February 1945, respected by the residents of the village and the neighboring area. When the Russians marched in he naturally lost his position, but he remained until December 1945 and had to endure forced labor at the hands of the new regime. Even in his younger years Mr. Mauß had been the church organist in Groß Tuchen and a civil servant. He organized a Lutheran church service for the Germans who still remained in Groß Tuchen. At that time the deaths of the many victims was made a matter of record and for this was arrested by the Polish authorities. He was kept prisoner in Bütow for many weeks and was terribly mistreated. He was beaten so severely that he suffered a navel rupture. (This is covered in several of the reports of the people of Groß Tuchen concerning the expulsion).

After the expulsion he remained in the Soviet Zone of Occupation for only 4 months as a teacher in the one-room school in Grünz, Kreis Randow. Then he settled in Beiningen in Kreis Ulm, where he remained until he retired in 1958, a teacher of Swabian children in a one-room school. He was again politically active and served as a county representative in Ulm on the Danube.

Wilhelm Mauß was a Social Democrat in the faction of Kurt Schumacher, and in the last years of his life he sadly observed the development of the party for which he had given up so much. For example, in 1933 he had to leave his new house.

Teacher Mauß had worked with all his might for a democratic Germany. He, along with so many others, was made to suffer from the results of the bad politics, against which he had warned for years. As a German he had to endure the trials of the victors, he lost his son Ulrich, who fell as a lieutenant at Orel, and he had to hear that his old father, the master shoemaker Wilhelm Mauß, was burned alive in his own house in Regenwalde when the Russians marched in. His son, who lived in Württemberg, Wilhelm Mauß jr., born in 1920, is a retired colonel in the German Army. His youngest son, Horst Mauß, born in 1927, was an industrial engineer and died in 1999.