Gnodtke Reunion 2017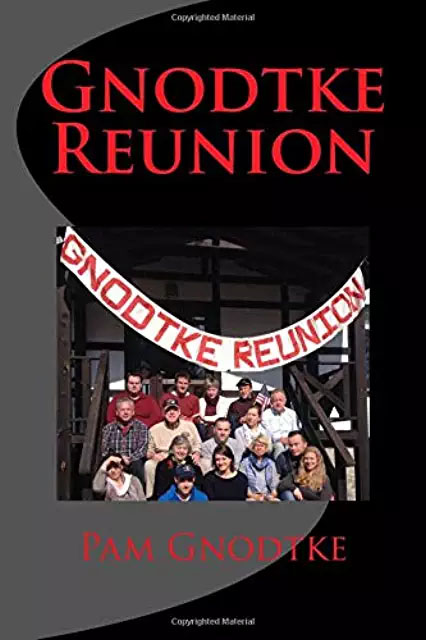 The following is an excerpt from a book recently written by Pam Gnodtke about the travels she and her husband Bill have made to Germany and Poland over the last forty years. Bill's goal to discover Gnodtke relatives and reconnect the family split through immigration and the world wars, was amazingly successful. After luckily discovering a German "cousin", Carola, who was also an English teacher, and through her help, their research, travel, and other internet assistance, a connection was made to another relative, Kurt, living in Poland today near the area Bill's grandparents, Carl and Marie Gnodtke emigrated from.

(If someone goes to amazon.com and types in "Gnodtke Reunion" there is more information.)





"Around noon, we arrived in Scharnitz and in no time we were seated around the table for a coffee and liqueur. Kurt said they had been expecting us. After talking further, Carola said, "Oh, dear! They thought we would be here three days ago. Poor Elfriede has been ready to produce a feast from her wood-burning stove at a moment's notice." We apologized and thanked them for their hospitality and tried to explain we did not have a set schedule. In short order, Elfriede served a mid-day meal for all with the help of daughter Irene.
After lunch, Kurt was pleased to guide us around the area in our car. We went first to a local tourist attraction at Varzin, Bismarck's summer home, which was now a forestry academy. Bismarck's horse Schmetterling is buried there, marked by a bas-relief of a horse on the building...
Kurt was happy to be traveling. He did not own a car, but had traversed the region by foot all his life or sometimes when working on a tractor. Usually they took buses to Miastko, the former Rummelsburg, for shopping and medical care. He was healthy and fit at 70. We asked to see more family sites. He paused, thought a minute, and directed us to Schwessin, where he had lived before the war. Dutch investors had recently planted many acres of a new potato hybrid in the fields around the small village, bringing new life, color, and industry to the area. We walked around the wall of an estate house that had been renovated for the foreign investors and Kurt explained it had been the former Gut or manor house where his parents had been caretakers before the war. Then he quietly visited their unmarked graves along the wall.
We requested that he take us to the towns listed in our genealogy records. He showed us the Max Schmeling farm at Ponickel, which was reduced to rubble, foundation stones in a field. No wonder we hadn't located it on an earlier trip. We followed the winding narrow roads through the hilly young pine forests to Seehof, Moddrow, Tangen, Kathkow, and Wusseken. These villages were small clusters of five to ten buildings surrounded by rolling unfenced agricultural fields.

At Wusseken, we stopped and looked at another former Gut that had not been restored. From these visits, we could see the pattern of a century ago. The landowner's home or country estate was central to several thousand acres of property. Though free men, our ancestors were not landowners. They were semi-itinerant, bartering their labor with the Gut owners for use of a small cottage for the year on property near a field to be worked. That might explain why the first four children of Carl and Marie were born in three of these contiguous villages. Aunt Bertha always said she was born in Versaken, but we did not know how to spell it correctly and so never located it on a map. Kurt knew immediately to take us to what was once the German Wusseken but now called Osieki. In the center of town he pointed out a large Tanzbaum or dance tree. A platform had been built on its lower limbs and musicians had climbed up in days gone by to perform at weddings.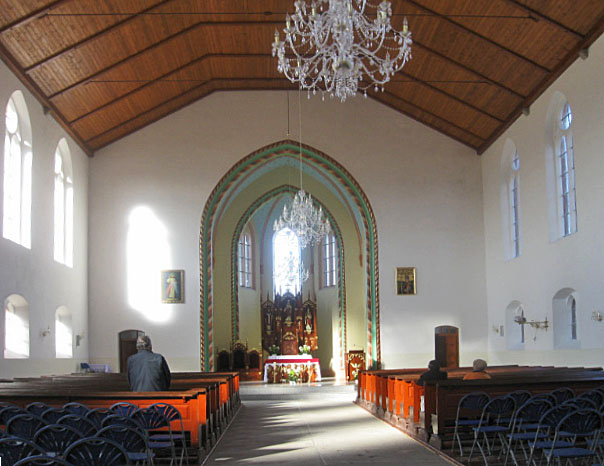 We returnedvia Gross Tuchen and Bill was able to confirm that the large redbrick abandoned church was where his grandparents married in 1889. While the building looked intact, the windows were missing and the grounds were weedy. We asked if there were church records and Kurt said we had to go to Rummelsburg or Stolp to see them today.
As our guide, Kurt often paused for a moment to recall directions and information. He might not have been to a destination for several decades, but he retrieved the dusty memories and had no problem locating any of our requested towns without consulting a map or GPS. Near the turnoff to his home, he said to turn into the woods on a dirt trail. We complied following under a canopy of bright green leaves from the white birch through the forest to arrive at a man-sized stone, inscribed with names of locals killed in a World War I battle in these woods. We did not see the name Gnodtke on this Grünwalde-Ponickel stone, but the surnames matched many of the family names back in Michigan: Totzke, Schulz, Kruggel.
Carola asked if Kurt knew where her great-grandfather Heinrich might have lived. He smiled. Heinrich's home resembled his and was just down the road in Scharnitz. We photographed the house for her father and then Kurt asked if we might want to see Heinrich's grave? "But of course," Carola said, so we retraced our drive back a half-mile, passed a ball field where children were playing abaseball-type game with stone and stick, parked, and climbed a wooded hill nearWaldow. There among oak trees were the remnants of an old Lutheran cemetery. Many tall iron crosses were knocked to the ground. A few cement and stone markers had been straightened and realigned, but most were in disrepair. We could not find the exact grave or location for Heinrich, but more than neglect had assaulted these defenseless graves over the last hundred years.
Our touring took the better part of three days. Each noon, we returned and Elfriede and Irene had a meal waiting. Each day, we insisted they come with us to our hotel for an evening meal. The Hotel Zamek was a half hour's drive away. They said they appreciated our offer but always declined for one reason or another. The eve of our departure we insisted they join us as our guests. They pointed out there was no room in our car for the six of us. They were right as we were cramped with five, but Bill offered to sit in the hatchback area.
We all laughed, but finally we prevailed and on our last evening they agreed to go with us. When Bill crawled in through the trunk, he was unable to sit up, and rode curled in a ball. Elfriede, the largest of the group, had the passenger seat, and Kurt joined Carola and me in the back. We could tell this was not their first trip to Bütow, but maybe one of a very few in their lives. They surveyed the countryside as we sped along the southern border of Pommern. Kurt pointed out the mounded roadbeds and crossing arches where trains used to run. He told us that the Russians had removed the trains after the war.
When we were seated at the hotel dining room, Elfriede and Kurt announced they were not hungry and would only have a coffee. We insisted they should order a dinner. We all proceeded to have a beer, a fine dinner, and perhaps another beer—or coffee for the driver. Kurt entertained us with stories. He offered a joke while Carola translated. Elfriede protested when she heard it was the one about a woman hiding a pike fish under her skirt, but it was too late. Kurt was on a roll and Carola was laughing so hard that we all were overcome with laughter to the point of tears from the preposterous story, Kurt's excitement in telling it, and Carola's astonishment and embarrassment at what she was translating. After dinner, they wanted to see our hotel rooms. We gave them the hotel's little soaps and shampoos. I offered to stay back at the hotel to catch up on my journal from the day's touring while the others drove them home. Bill rode in a seat this time.
In the morning, we stopped by for one last coffee and to say goodbye to our Pomeranian-Polish family as we headed west to Germany. We had seen so much of the area with Kurt who helped us relate to where and how our ancestors had lived. Life went on and changed little for those left behind like Kurt and Elfriede at the war's end. Other than electricity, television, and indoor-plumbing, most 20th-century conveniences had eluded their lives. Our visit to their home could just as easily have been in the late 1800s. They heated and cooked using fallen wood collected from the forest and grew or foraged for most of their own food. Their meals were delicious, hearty, and healthy—and required hard work. In the 21st century they struggled to keep up financially. We had not expected we would spend so much time with them touring or eating during our visit and wanted to thank them for their kindness. We decided the best thing would be to leave some money. Kurt slipped it in his pocket with the grace of a professional guide. At Christmas, he wrote Carola that they had replaced all the house's windows and one door with the $300 that we had left."


Groß Tuchen:
Geschichte, Kultur, Soziologie und Genealogie eines Dorfes in Hinterpommern




Subscribe to "Pomeranian_Griffin"

Impressum