"Shoes for Gzube"
Projekt zur Förderung der kaschubischen Jugendtanzgruppe "Gzube"
in Gross Tuchen/Tuchomie
Bericht aus "Kurier Bytowski", August 2000: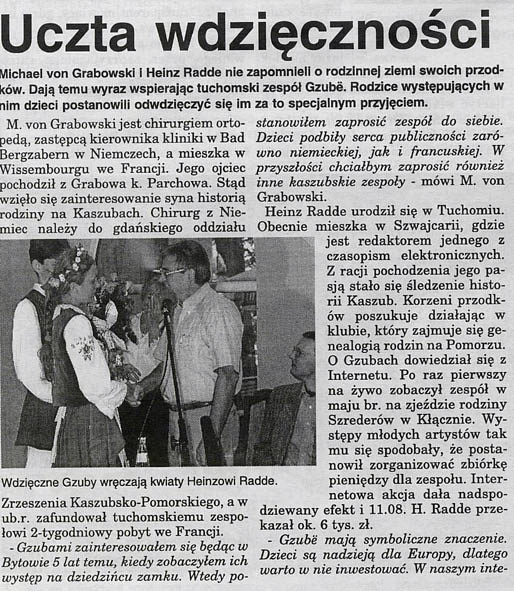 Translation by Piotr Mankowski, Nowogard:
The feast of gratitude
Michael von Grabowski and Heinz Radde

have not forgotten about the homeland of their ancestors. They express their affection by supporting the Kashubian folklore group Gzube.




The parents of the children in the group decided to repay for this with a special hospitality event.



M. von Grabowski is an orthopaedic surgeon, deputy head of the orthopaedic clinic in Bad Bergzabern in Germany but lives in Wissembourg in France.
His father came from Grabowo by Parchowo.
For this reason, he started to research his family history in Kashubia. The orthopaedic surgeon from Germany belongs to Gdansk branch of Kashubian-Pomeranian Association, and this year Mr Grabowski defrayed the Gzube two-week stay in France.
"I became interested in the Gzube when I was in Bytów five years ago.
I saw their show in the courtyard of the castle and decided to invite them. Children won the hearts of both German and French audiences. In the future I would like to invite other Kashubian groups."-

Heinz Radde was born in Tuchomie and currently resides in Switzerland where he is the editor of an electronic magazine. The history of Kashubia is his great passion. He is researching his family roots in a Pomeranian genealogical club. He has learned about the Gzube from the internet. He saw the group for the first time in May, this year during the Szreders family reunion in Klaczno. He liked the performance of the young artists so much that he decided to organize a fundraiser for them. The online fundraising had unexpected results and on 11th August H. Radde handed over ca 6000 zl (Polish currency).
"The Gzube have a symbolic meaning. Children are the future of Europe and it is worth to invest in them……"