GROSS TUCHEN

Tuchomie
Tëchòmié
Kreis Bütow
pow. Bytów
kréz Bëtowò
Pommern
Pomorze
Pòmòrzkô

"Maikäfer flieg
Dein Vater ist im Krieg.
Die Mutter ist im Pommerland,
Pommerland ist abgebrannt.
Maikäfer flieg."


Pomeranian Griffin
International Internet Group
for Pomerania

© Heinz Radde 1998-2018
Impressum




Familysearch thanks:
Ein Dorf in Hinterpommern
A town in East Pomerania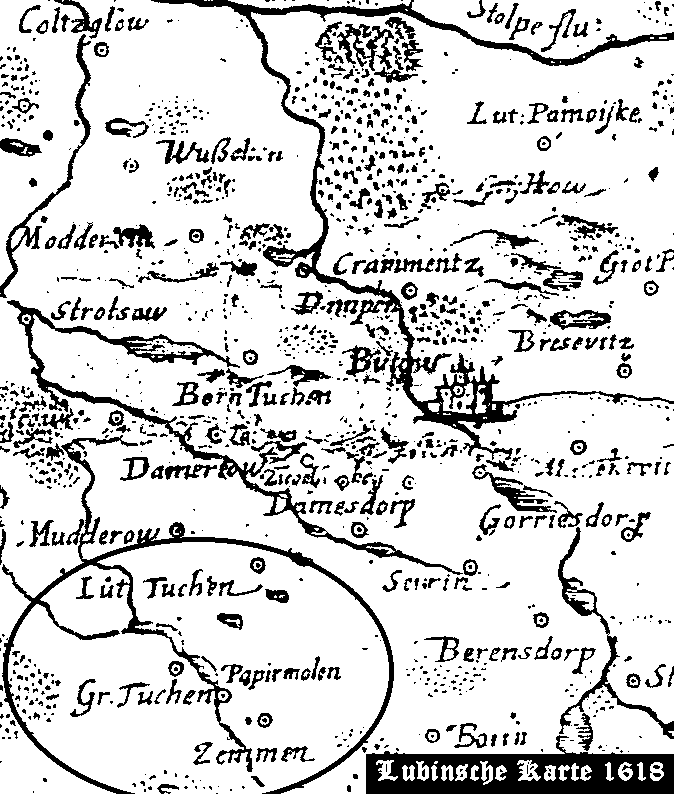 Deutsch: Beiträge zu Geschichte, Soziologie, Kultur und Genealogie Hinterpommerns und zur Aufarbeitung des gemeinsamen Schicksals von Deutschen, Kaschuben, Polen, Ukrainern und Russen dort. In Deutsch und Englisch, Graf Krockow's Worte auch in Polnisch. Diese Seiten sind den Pommern und ihren Nachfahren in aller Welt gewidmet.

English: Contributions for history, sociology, culture and genealogy of Eastern Pomerania and for the processing of the common fate of Germans, Kashubs, Poles, Ukrainians and Russians there. In German and English, the words of Count Krockow in Polish, too. These pages are dedicated to the Pomeranians and their descendants in all world.

Po polsku: Wspólpraca w zakresie historii, socjologii, kultury i genealogii wschodniej czesci Pomorza. Prezentacja wspólnego losu Niemców, Kaszubów, Polaków, Ukrainców i Rosjan na tych ziemiach. Uwagi hrabiego von Krockow na temat wypedzenia Niemców - podane w jezykach: angielskim, niemieckim i polskim. Strony te dedykuje Pomorzanom i ich potomkom na calym swiecie.


Kaszëbsczi: Wespólrobota w kréze dzejów, socjologije, kulture ë pochodzënka ostowi parce Pòmorzkô. Pokôz zbiérnegò dopusta Miemców, Kaszëbów, Polachów, Ukrainców ë Rusków na tej zémi. Bôczënczi grôfa von Krockow o wënëkaniu Miemców - w gôdkach : anielsczi, miemiecczi ë polsczi. Te starne sã poswiãcony Pomorencom ë jich potómkom na calim swiece.

Plattdüütsch: Bidräg to de Geschicht', Soziologie, Kultur un Genealogie von Hinnerpommern un to de Uparbeitung von tosamen beläwte Schicksale von Düütsche, Kaschuben, Polen, Ukrainers un Russen in disse Region. Up Düütsch un Engelsch; de Wüürd von Graf Krockow ok up Polnisch. Disse Sieden sünd de Pommern un ehr Kinneskinner in alle Welt todacht.
Geschichte, Soziologie, Kultur, Genealogie
(deutsch / English / po polsku)
Christian Graf von Krockow:
Was für ein Land! What a Land! Coz to za kraina!

Tuchomie/Groß Tuchen (deutsch) in WIKIPEDIA
Geschichte und Soziologie: Groß Tuchen und Pommern
History and Sociology: Gross Tuchen and Pomerania
Kulturgüter / Culture: Das Erbe / The Heritage
GENEALOGIE: Vorfahren / Ancestors
Die Vertreibung aus Groß Tuchen: Berichte von Zeitzeugen
Expulsion from Gross Tuchen: Reports of Witnesses
Heute / In Our Days: Gmina Tuchomie
KREIS BÜTOW: Gemeinden und Bevölkerung
Borntuchen Chroniken und Aufzeichnungen
Pomeranian Links: Pommersche Websites
Pictures / Bilder
Diverses: Supporting Information
Mahnmale / memorials in Pommern