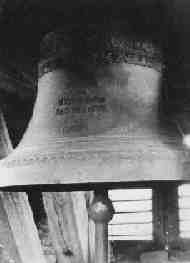 The Bell of the Lutheran Church in Gross Tuchen 1939
The reports have been initiated by 
pastor Siegfried Labuhn (+1997)

Editor of the WWW-version:
Heinz Radde,
Kuettigen (Switzerland), 1998
© All rights are preserved by the editor.
No part is allowed to be copied, published 
or translated into other languages 
without strict permission.




Groß Tuchen: 
Geschichte, Kultur, Soziologie und Genealogie 
eines Dorfes in Hinterpommern
 
Subscribe to "Pomeranian_Griffin"

Impressum




Expulsion from Gross Tuchen - the Reports
PROLOGUE: The Hour of Retribution
Count Christian von Krockow: Pomerania - Pomorze
Biastoch, Paul (*1887): The Biastoch Report
Burmeister née Seltzki, Elisabeth (*1918): The Polish police woke us at 4 o'clock in the morning
Gutzmann née Labuhn, Käte (*1924): Until the very end we had hoped
Kautz, Heinz (*1931): Marching in of the Red Army
Kramer née Kowalke, Irmgard (*1933): Our Flight from the Russians, Expulsion by the Polish
Krug née Kramp, Elli (*1925): The Winter 1944/45 was cold in our area
Labuhn, Ruth (*1929): Flight, Expulsion and New Start
Labuhn, Siegfried (*1928): Farewell to Gross Tuchen
Leinemann née Mielke, Christel (*1929): The place of deporting I don't remember
Machura née Kolberg, Ida (*1909): Our Child was born in 1944
Mickley, Adolf (*1933): The Mickley Family remembers
Mutschall, Willi (*1934): We were cut off by the Russians
Orgas née Schwarz, Lenchen (*1937): It was a wonderful winterday
Pecker, Heinrich (*1927): I reported to Military Training Camp
Podelleck née Roeschke, Helene (*1918): Flight from our Homeland
Polzin, Hildfried (*1939): Our Family's Flight and Expulsion
Radde, Heinz (*1942): Only being five years old
Radde, Karl (*1934): Our Memories Never Die
Raddes Route of Flight, March 2-16, 1945: Iron burns!
Tebbenhoff née Bansemar, Edeltard (*1934): The Russians are coming
Vollert née Kolberg, Brigitte (*1936): We knew that we would have to leave our homeland
Wenzlaff née Pecker, Erika (*1935): That you should flee, is out of the question
EPILOGUE: 50 Years Later 1997

Flight from Eastern Pomerania and Danzig: Report of the German Ministry
The Process of Expulsion in Eastern Pomerania: Report of Pastor Lindenberg from Stolp

Diese Seiten in Deutsch

Eastern Pomeranian Links
Gross Tuchen: A village in Eastern Pomerania
Kreis Bütow: History, sociology, genealogy